Exhibition Radical Austria: Catalog / Bart Lootsma
Catalogue Exhibition Radical Austria: Everything in Architecture curated by Bart Lootsma, Alexa Baumgartner, and Maya Christodoulaki. Design by Dutch office DeVrijerVanDongen and still on display in the Design Museum Den Bosch until October 3, 2021. In English.
Exhibition Radical Austria / Bart Lootsma
Bart Lootsma, Alexa Baumgartner and Maya Christodoulaki curated the exhibition Radical Austria, on the Austrian avantgarde of the nineteen sixties and early seventies in the Design Museum in Den Bosch. The exhibition, subtitled Everything is Architecture, for the first time features art, clothing, design and architecture in one show, which is one of the first […]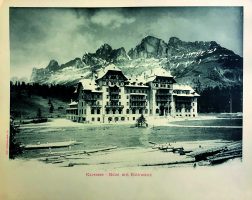 Mountain Hotels 1890-1930 by Bettina Schlorhaufer / Bart Lootsma's comment on facebook
"The great new standard work on Mountain Hotels in North and South Tyrol and Trentino by Bettina Schlorhaufer from architecturaltheory.eu. Years of research in previously inaccessible archives. Architectural history, economic history and history of innovation and technology. It's really difficult to point out in short why these books are so important. History of tourism and […]
E te, beltade ignota – A short play on Fiction and Realism / Giacomo Pala
This text looks at the connections between Victorien Sardou's/Giacomo Puccini's "Tosca" and Giovanni Battista Piranesi's "Campo Marzio dell'Antica Roma". Apparently opposites – the former is "realist", the latter is "surreal" – they are used to discuss how what we define as the real is deeply entangled with fiction and the unreal.
Let's call the whole thing off / Giacomo Pala
In this paper, Giacomo Pala discusses the notions of the "digital" and "postdigital". Starting from an article by Mario Carpo, the text discusses why these two concepts have become so popular and upsetting. As suggested by the title, the text questions both these two labels, proposing to call them off and to think of architecture […]
Radical Austria: The Movies. Introduction.
Parallel to the exhibition Radical Austria, Everything is Architecture in the Design Museum Den Bosch, on the Austrian avant-garde in art, fashion, design and architecture in the nineteen sixties and seventies, architecturaltheory.tv presents a selection of films on and by the protagonists of the exhibition, originally made for and broadcasted by the ORF.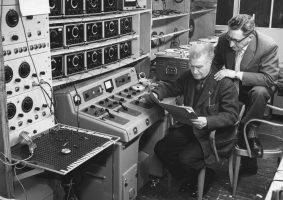 Sound Microbes / Cornelia Toifl
How electronics changed music and the perception of space With the help of actor network theory (ANT) as defined by Bruno Latour and Michelle Callon in the 1980s, this scientific work establishes the connection between the development of electronic music and the perception of space. "Poème électronique", a composition by Edgard Varèse, was a decisive […]
Complexity as a Narrative / Giacomo Pala
The paper studies how the notion of "complexity" and "chaos" have been used in architecture. A number of scientific, theoretical and architectural projects are discussed. Complexity is first discussed as a design method allowing the embodiment of scientific concepts in architecture. Still, it is noted that these architectures are not scientific objects, but are more […]
Nothing happens until something moves / Nina Rattensperger & Christine Gasser
This theoretical research deals with the concept of nomadism in the architectural avant-garde, and wether their ideas can still show certain values in contemporary architecture. Based on the nomadic theory of the French philosophers Gilles Deleuze and Felix Guattari and research on various nomadic designs from the 1960s and 1970s, it is interesting to see […]